Home
2014 ICJR Transatlantic Surgical Conference Coverage
2014 ICJR Transatlantic Surgical Conference Coverage
2014 ICJR Transatlantic Surgical Conference Coverage
2014-10-03
Sheraton New York Times Square Hotel, New York

Customized, Individually Made Unicondylar Knee Replacement: A Prospective, Multicenter Study of 2-Year Clinical Outcomes

In-Vivo Tibial Fit Analysis of a Customized, Individually Made TKA System Versus Off-The-Shelf TKA

Hospital Outcomes and Cost for Patients Undergoing a Customized Individually Made TKA vs Off-The-Shelf TKA

Long Term Results of Total Knee Arthroplasty for Valgus Knees ‹ Soft Tissue Release Technique and Implant Selection

Mid Term Results of Rotating Hinge Knee Prosthesis

Patellar Tendon Reconstruction Following Disruption in Total Knee Arthroplasty _ A New Technique

Low Early Complication Rate with a Modern Dual Mobility Hip Prosthesis in the USA

In Vitro Electro-chemical Testing of Conventional Total Hip Replacement Tapers

Eight-Year Results of a Recalled Metal-on-Metal Monoblock Hip Prosthesis: Primary versus Revision

Cost Analysis of Treating Periprosthetic Joint Infections at a Tertiary Referral Center

Topical Tranexamic Acid Use in Knee Periprosthetic Joint Infection is Safe and Effective

Prevalence of Metal Allergy in an Orthopaedic Osteoarthritis Clinic

Risk Factors for Hip Dislocation after Hemiarthroplasty for Femoral Neck Fractures in the Elderly Population

Mid-Term Results of Patient Satisfaction Following Total Knee Arthroplasty

Developing an ¥iHandbook for Clinical Medical Students: Capitalising on Tablet Technology

A Comparison of Athletes to Non-Athletes in Recover after Hip Arthroscopy

The Effects of a Hospitalist Co-Management Model for Joint Replacement Patients in a Teaching Facility

A Randomized Controlled Trial: Early Functional and Proprioceptive Improvement Using a Continuous Active vs Passive Motion Device!

A Comparison of Patient Individualized Jigs, Anatomic Landmarks and a Medial Measured Resection Gap Balancing Technique!

Quality Improvement Initiative to Reduce Pain and Opioids After Total Knee Arthroplasty

A Comparative Analysis of Quality Metrics Before and After the Establishment of a Joint Replacement Center In an Urban Setting

Tranexamic Acid & PRP Is Superior to Tranexamic Acid Alone for Transfusion Prevention in TKA

Navigated Total Knee Arthroplasty Is No Slower than Conventional Instrumented TKA

Intra-Articular Antibiotic Administration for the Treatment of Prosthetic joint Infection

Two Stage Reimplantation for Infected Knee Arthroplasty with An Articulating Preformed Spacer

Influence of Psychiatric Comorbidity on Outcomes Following Primary Total Hip and Knee Arthroplasty

Trends in Anterior Cruciate Ligament Reconstruction in the United States

The Location of the Popliteal Artery in Knee Extension on Magnetic Resonance Imaging

Intraoperative Assessment of Mechanical Alignment Accuracy with Navigation in a Customized, Individually Made TKA

Surface Modulation of Silicon Nitride Ceramics for Orthopaedic Applications

Over 10 Years Follow-Up : Dual Mobility for Osteonecrosis of the Femoral Head in Young Patients
Safety of Desirudin Administered in the Immediate Postoperative Period Following Joint Replacement Surgery: An Observational Study

Post Hoc Analysis of Desirudin Versus Enoxaparin in Thromboprophylaxis in High-Risk Patients Undergoing Hip Replacement

Accuracy of Femoral and Tibial Resection Thickness Using Patient Specific Instruments for Total Knee Arthroplasty

Direct Anterior Approach Total Hip Arthroplasty (THA) with a Straight Tapered Titanium Stem: A Learning Curve for Neutral Alignment

Accuracy of Patient-Specific Guides for Placement of the Acetabular and Femoral Component

Optimization of Acetabular Cup-Bone Interface and Volumetric Bone Loss in Total Hip Arthroplasty

When is it Safe for Patients to Drive after Right Total Hip Arthroplasty?

Does Medicare 3-Day Rule Increase Length Of Stay?

Predictors Of Early Discharge After Total Knee Replacement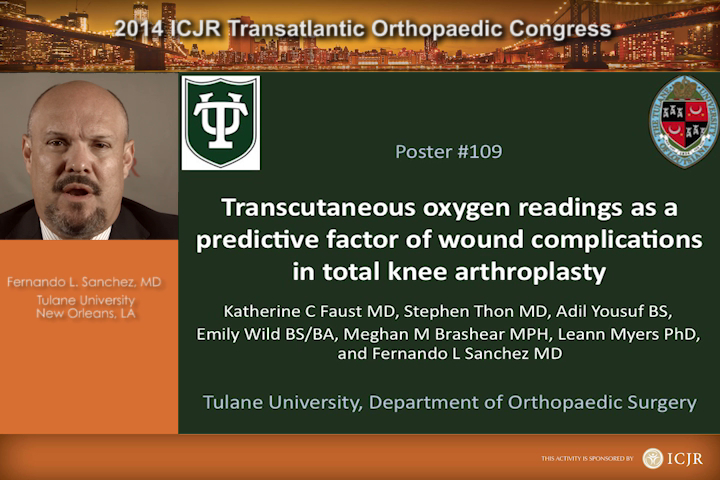 Transcutaneous Oxygen Readings as a Predictive Factor of Wound Complications in Total Knee Arthroplasty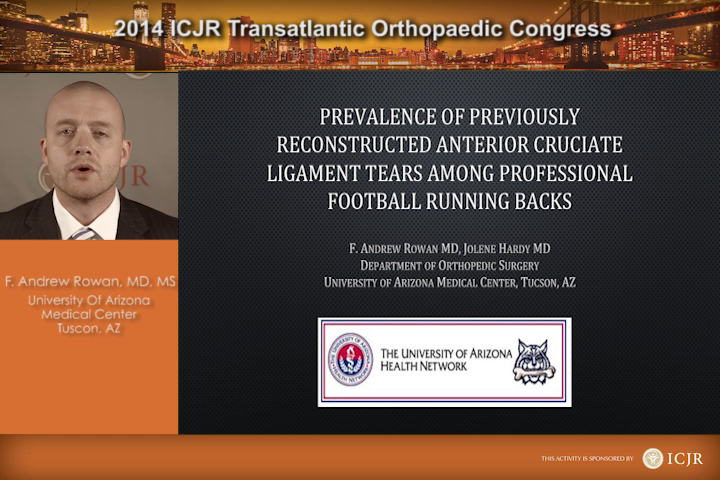 Prevalence of Previously Reconstructed Anterior Cruciate Ligament Tears Among Professional Football Players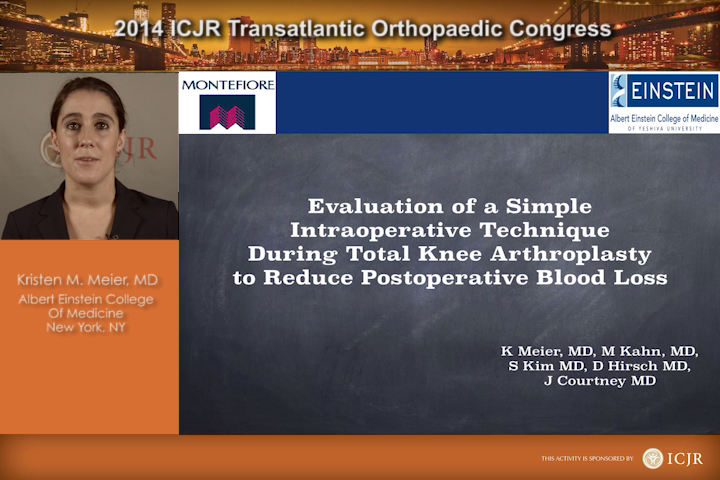 A Simple Technique May Reduce Postoperative Bleeding After Total Knee Arthroplasty (TKA)